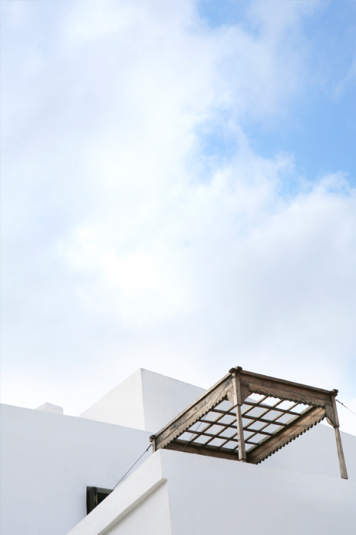 THIS IS THE PRIVATE SUMMER RESIDENCE OF GEORGIOS T. CARABELLAS, AN ENTREPRENEUR BASED IN LONDON WHO IS THE FOUNDER AND CREATIVE DIRECTOR OF TR2 THE LIFESTYLE BRAND, A COMPANY SPECIALIZING IN CONCEPTUAL DESIGN AND COMMUNICATION (WWW.THISSIONR2.COM).
IN 2007 ON A TRIP TO SKYROS TO SPEAK WITH LOCAL CRAFTSMEN FOR A VERY DEMANDING INTERIOR DESIGN PROJECT HE HAD UNDERTAKEN AT THE TIME, HE STUMBLED ACROSS FOUR DERELICT SHACKS CIRCA 1890 IN THE TRADITIONAL PART OF THE MAIN VILLAGE (CHORA) AND WAS LEFT UTTERLY SPEECHLESS BY THE ATMOSPHERIC VIEWS AND HUGE POTENTIAL OF THE PLACE, ITS VERY AURA. IT WAS LITERALLY A COUP DE FOUDRE!
IN LESS THAN A WEEK (!), HE AND HIS WIFE, WERE THE OWNERS OF THE FOUR HOUSES AND HE IMMEDIATELY BEGAN AN EXTENSIVE RESTORATION/REBUILDING PROCESS WHICH LASTED OVER FOUR YEARS. THE FOUR HOUSES/STABLES, PREVIOUSLY USED FOR STORING WHEAT AND FOR KEEPING THE UNIQUE BREED OF HORSES IN THE ISLAND (THE INTERNATIONALLY FAMOUS SKYROS PONIES, NOW A LISTED ENDANGERED SPECIES), ARE REFERRED TO IN GREEK AS "KANTOUNES". GEORGIOS C AND HIS TEAM USED ONLY RECLAIMED WOOD, LOCALLY SOURCED MATERIALS AND THE RENOWNED SKILLS OF SKYRIAN ARTISANS AND CRAFTSMEN TO BRING THOSE ''KANTOUNES'' INTO THE MODERN ERA, WHILE MAINTAINING THE TRADITIONAL FEATURES, THUS PRESERVING THE ISLAND'S VAST HERITAGE, ONE THAT DREW LE CORBUSIER HIMSELF HERE TO STUDY IT AND GET INSPIRED.
THE WORK WAS A BIG CHALLENGE AS ALL MATERIAL HAD TO BE CARRIED UP TO THE HOUSE ON DONKEYS, LIKE THE GOOD OLD DAYS! THE PHILOSOPHY BEHIND THE WHOLE PROJECT WAS CLEAR FROM THE VERY START, TO PRESERVE THE CHARACTER OF THE HOUSES, TO COMPLEMENT THEM WITH A SELECTION OF DESIGN ICONS, ANTIQUES, FAMILY HEIRLOOMS AND OBJETS TROUVES FROM THE EXTENDED TRAVELS OF THE OWNER, SO AS TO CREATE A YEAR LONG RELAXATION RETREAT FOR HIMSELF AND HIS DISTINGUISHED GUESTS.